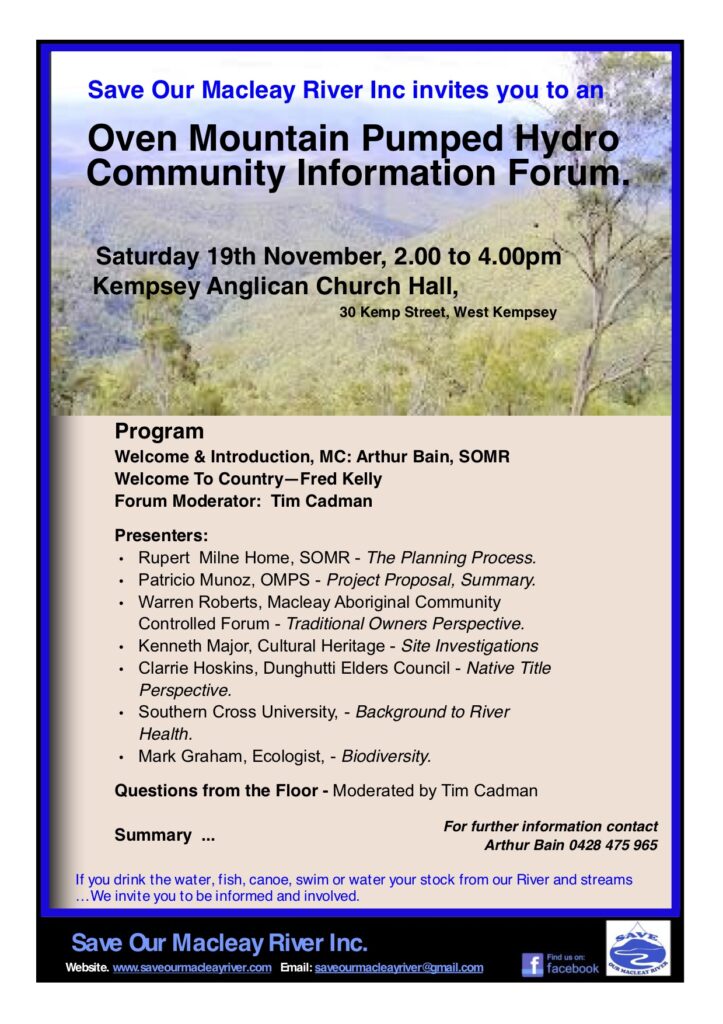 Some facts about the project:
The Oven Mountain Pumped Hydro project (OMPS)
 
 * Will not dam the Macleay River
The two reservoirs to be built for the pumped hydro power generation will not be in the
riverbed. There will be a lower reservoir near the river and an upper reservoir about 600m above.
The project will purchase power from the grid to pump water from the lower reservoir to the upper in times of low demand/cost power; and release water, driving the turbines, generating electricity in high demand/cost periods. Profit will be made from the price differences.
Only the lower reservoir will initially be filled and topped up as required. The proponents say they will fill and top up the lower reservoir from the Macleay River only during times of high-water flows.
*  Will not give water security to the residents of the Kempsey Shire during
times of drought.
Oven Mountain reservoirs will not contribute to the Kempsey Shire water security.
Water released during a drought would soon be absorbed into the riverbed. It would not reach Bellbrook and therefore be of no use. It is not part of the project plan.
 
* Will provide employment
The proponents have estimated that there will be 600 jobs created during the construction phase and have hinted at 1,000 not 3,000 jobs as stated by our local State MP.
 
* Will store electricity
The current proposal for the Oven Mountain Pumped Hydro project aims to provide up to 900MW, not 600MW as originally proposed. Proponents had to resubmit their proposal to the Dept of Planning Industry & Environment (DPIE). There is no net gain in electricity generated from the project.
 
* Will impact on our roads
Road access for the project may be from Kempsey via Armidale Road. It appears that upgrades will initially be paid for by the NSW government.
 
* Will cost ratepayers & taxpayers
So far, the project has been allocated funding of approx. $12 million from the NSW and Commonwealth governments.
 
* Will submit EIS for community consultation before the decision of the
Minister for Planning, Environment and Industry
The proponents have engaged consultants to develop the Environmental Impact Statement (EIS). The document is expected to consist of several hundred pages. The Development
Application (DA) and EIS is proposed to be lodged by the end of 2022. Following the DA's and EIS's placement on Public Exhibition (by DPIE) the public will have 28 working days to lodge submissions.
 
* Will be operated by Alinta Energy
The land is owned by local family company Hoshac Pty Ltd.
The proponents are OMPS Pty Ltd who will hand the project to Alinta Energy when operational.